If your home has a wood-burning fireplace or stove, you probably know that you should have the chimney cleaned and inspected once a year because of the mess involved with burning wood. However, just because you own a clean-burning gas heating appliance does not mean you are exempt from annual maintenance service. You may not be able to see soot or other debris in your chimney, but gas heating appliances can leave behind deposits of corrosive substances in your chimney. Even more concerning, these corrosive and acidic substances can cause extensive damage to your chimney with no symptoms until the problem has become hazardous and expensive to repair. Olde Towne Chimney & Fireplace Sales would like to tell you why it is so important to have your gas appliance inspected and serviced before winter by sharing with you some information from the Chimney Safety Institute of America (CSIA) about the two most common problems that can occur with gas heating appliances.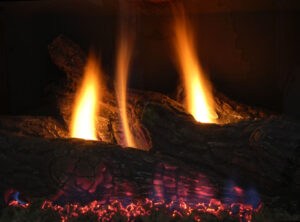 Incomplete Combustion
Gas heating appliances are highly efficient because they extract the heat that used to exit out the chimney and deliver it inside your home, but this can cause draft issues that can cause incomplete combustion. Inadequate draft caused by cooler chimney temperatures does not provide enough combustion air. Incomplete combustion leads to the production of carbon monoxide, a poisonous gas. Even worse, the weak draft problem can also allow this toxic gas to enter your home as it is unable to safely exit the chimney.
Condensation
Also due to the cooler chimney temperatures with high-efficiency gas appliances, the water vapor produced during combustion often ends up condensing inside the flue. What makes this more complicated is the fact that this water is most likely highly acidic and corrosive. You can end up with a gallon of hydrochloric or sulfuric acid eating away at the masonry materials of your chimney from the inside. This is aggravated by cold exterior chimneys and lengthy runs of connector pipes between the appliance and the chimney. While you can suffer from incomplete combustion issues with no symptoms, the excessive moisture produced from condensation can have visible signs, such as peeling wallpaper, bubbling paint, water stains on the ceiling and walls, and crumbling bricks and eroded mortar joints on the exterior of the chimney.
If you own a gas heating appliance, contact us at Olde Towne Chimney & Fireplace Sales to schedule a maintenance service appointment. We will look for these issues as well as any blockages of your flue. If we find any problems, such as an incorrectly sized flue, we are able to fix these issues to get your gas appliance working properly and safely.