With the arrival of spring and warm weather, fireplace season has come to an end. When making your spring cleaning to-do list this year, you should include cleaning up your fireplace. A few simple maintenance tasks performed in the spring will ensure your fireplace will be ready to use in the fall. While you will need to schedule an appointment with Olde Towne Chimney & Fireplace Sales for a professional chimney sweeping and inspection to be certain everything is working efficiently and safely, there are a few cleaning tasks that you can do yourself. We would like to tell you more about how you can maintain your fireplace for optimal performance.
Ash removal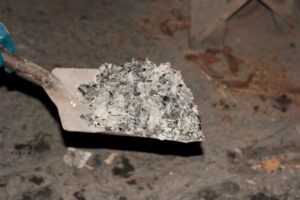 After your last fire of the season, you need to remove all of the ashes from the firebox of your wood-burning fireplace. If you use your fireplace regularly during the colder months, you should be familiar with this task. The only major difference of cleaning up the ashes at the end of fireplace season from your weekly ash removal chores is that you will need to remove all of the ashes instead of leaving behind a thin layer of ashes to act as insulation,
according to HGTV
. Removing ashes can be hazardous, so knowing the proper way to do it is essential for your safety. You should wait at least three days after your last fire to be sure the ashes have cooled. Open the damper and begin scooping out the ashes into a metal container. Wearing a dust mask is recommended as you perform this chore. After all of the ashes have been removed, close the metal container with its lid and store the container outside on a noncombustible surface. Since there could be some smoldering ashes in the container, you should wait a couple of days before emptying the container into the trash.
Cleaning the glass door
One of the dirtiest parts of your fireplace, glass fireplace doors can end up with some tough stains from soot and creosote. To thoroughly clean these doors, you start by scraping off any gunk with a razor blade. After you have removed the sticky residue from the doors, you can then clean them with a solution of warm water and liquid dishwashing detergent or a mixture of a gallon of water and a cup of vinegar and a clean rag or sponge to apply your cleaning solution. HGTV recommends using newspaper to wipe away the cleaner because it is lint-free. Olde Towne Chimney & Fireplace Sales also carries glass cleaner that has been specially made to clean fireplace doors.
Remember that an annual professional chimney sweeping and inspection is important for maintaining an efficient and safe fireplace. Contact us at Olde Towne Chimney & Fireplace Sales to schedule your appointment for our chimney maintenance services today.