If your family enjoys grilling and eating outdoors, you may want to consider adding an outdoor kitchen to your outdoor living space. When you have a complete kitchen outside, you are able to spend all of your time outside with your family and friends while you cook. You know how popular the kitchen in your home can be when you entertain, and having an outdoor kitchen gives you another favorite gathering space outdoors. At Olde Towne Chimney & Fireplace Sales, we specialize in planning, designing, and installing outdoor kitchens, and we can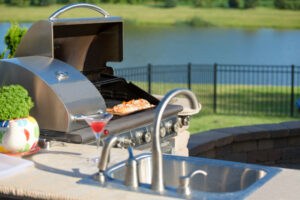 build you the outdoor kitchen of your dreams, no matter what budget you have. We sell and install built-in gas grills, drawer and doors for cabinets, and even refrigerators. Planning an outdoor kitchen involves a lot of thinking, and we would like to help guide your thinking by giving you some questions you should ask yourself when you are in the planning stage for this project.
How often do I cook outside?
According to HGTV, this is the first question you should consider when planning your outdoor kitchen. If you do not spend a lot of time grilling outside, you may not need a full outdoor kitchen. However, if you cook outdoors a few nights every week, you will want to have other appliances in your outdoor kitchen than just a grill.
What do I want to keep in my outdoor kitchen when it comes to tools and accessories?
If you wish to have a place to store your barbecue tools, dishes, glasses, and other entertaining items in your outdoor kitchen, you will want to have plenty of storage space. We can build drawers and cabinets in your outdoor kitchen that will allow you to keep from having to go back inside to get certain items necessary for cooking.
Do I want the area to include an entertainment and dining space?
If you want your outdoor kitchen to have space for friends and family to eat and hang out, you have the option of adding bar stools so that they can sit at the island. You may want to include a table with chairs as well. You will also have to think about how many electrical outlets you will need if you want to include a stereo system or TV.
Do I want my outdoor kitchen to be adjacent to the house or separate?
Choosing the location of your outdoor kitchen is a very important decision. If you do not want a large outdoor kitchen, you will want to have close access to your indoor kitchen so that you will not have to carry heavy dishes very far. Our staff can help you decide where your outdoor kitchen will fit the best.
Considering adding an outdoor kitchen this spring? Contact us at Olde Towne Chimney & Fireplace Sales to get started on the planning process today.