In the Louisville and Southern Indiana area, we can see some harsh winter weather, including multiple snow and ice storms. You may have experienced some type of home damage during one of these storms, and your masonry chimney can suffer quite a bit of deterioration. A lot of this damage occurs to the exterior of your chimney, so you should always remember to check out the condition of your masonry chimney after a snow storm. What exactly can winter weather do to your masonry chimney? Olde Towne Chimney & Fireplace Sales would like to tell you the most common types of winter-related chimney damage we see, and we can let you know how our Chimney Safety Institute of America (CSIA)-certified technicians can repair the damage as well as prevent it from happening again next winter.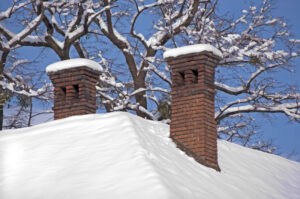 CRACKED CHIMNEY CROWN, BRICKS, AND MORTAR JOINTS
The crown that covers the top of your chimney is constructed from mortar, and like all masonry materials, mortar is porous and absorbs water. Since your chimney crown gets the brunt of the winter weather because of its location, it absorbs a lot of water and is very common for the crown to become cracked and chipped during the winter. Water can cause damage to a masonry chimney any time of the year, so much that the CSIA has named water as the biggest enemy of masonry chimneys. However, this damage can be even worse during the winter. When the temperature drops below 32 degrees Fahrenheit, the water that is absorbed inside your chimney crown will freeze and expand. As the weather begins to warm back up, this water thaws and causes the chimney crown to crack and even break apart. Olde Towne Chimney & Fireplace Sales can repair your crown or even build you a new one if the damage is beyond repairing. We will then apply a waterproofing formula to the crown to protect it from future water penetration damage.
All of this type of damage also applies to the other masonry materials of your chimney, the bricks and mortar joints. This damage can be more serious as it can lead to the collapse of your chimney if left unrepaired. We can repair and replace damaged bricks and mortar and then apply that same waterproofing formula to protect your entire chimney.
DAMAGED FLASHING
Heavy snowfall on your roof can bend or warp the flashing system, and this can lead to major water leaks into your chimney and your home. Constructed of metal sheeting, flashing is layered and wrapped around your chimney where it meets the roof, which is one of the most common areas for water leaks. After we get several inches of snow, it is a good idea to contact Olde Towne Chimney & Fireplace Sales to schedule an inspection of your flashing system to ensure its seal has not been broken. If we do find damage, we can repair the flashing or even construct a new customized flashing system to protect this vulnerable area.
If you have seen signs of these types of winter chimney damage, you should arrange for repair work as soon as possible to keep your chimney working safely. Contact us at Olde Towne Chimney & Fireplace Sales to schedule an appointment for a post-winter chimney inspection today.